EDWINA WILLIAMS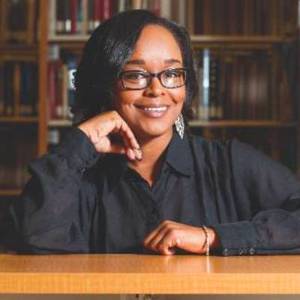 Edwina Williams has come full circle.
A single mother and one-time high school dropout, Williams' fortunes turned upon enrolling in the Adult High School Program at MiraCosta College to secure her belated diploma. One associate degree, one bachelor's degree, and one master's degree later, she is now a part-time sociology instructor at the college that transformed her life.
Her career plans—become a full time professor at MiraCosta College upon earning her Ph.D.
"I never thought I would ever be in a college class, let alone teach one," said Williams. "I know it's cliché to hear people say that dreams do come true, but they really do, and I'm living happily ever after."
Williams was born and raised in Oceanside and was attending El Camino High School when she became pregnant and dropped out. Not wanting to become another statistic, Williams enrolled in the High School Diploma Program at the MiraCosta College Community Learning Center. "I felt incomplete," she said. "I felt I was missing out on a life better than the one I was experiencing."
She earned her diploma two years later, but her work had just begun. With the help of an Adult High School Diploma Program Graduate Scholarship, she enrolled at MiraCosta College's Oceanside Campus en route to earning an associate degree in psychology. Her dedication drew a growing legion of supporters and landed her on the President's List. She also earned multiple scholarships along the way, including a MiraCosta College Foundation Need-Based Scholarship, a MiraCosta College Foundation Scholarship, the Grandison M. Phelps Jr. Memorial Scholarship, an EOPS Recognition Award, the North County African-American Women's Association Scholarship, and the Louise A. Broderick San Diego County Scholarship.
Upon securing an associate degree in psychology, Williams transferred to Cal State San Marcos, where she earned a bachelor's degree in psychology and a Master of Arts in Sociological Practice.
She followed that up with a year-long faculty internship through the San Diego and Imperial Counties Community Colleges Association (SDICCCA), a regional effort to identify, recruit, train and support prospective community college professors, librarians, and counselors. That led to an associate faculty teaching position at MiraCosta College in the spring and an Introduction to Sociology course during the 2016 Summer Bridge Program. She is set to continue teaching at MiraCosta College this fall while waiting to hear from Ph.D. programs to which she has applied.
"Edwina is a person I can say I'm honored to know," said Diane Danielewicz, a financial aid and scholarship specialist at MiraCosta who knows Williams well. "She continues to be an inspiration to her son and to her students and I am thrilled that she is back at MiraCosta College as a teacher. I have no doubt that soon I will be calling her Dr. Edwina Williams."
Thanks to MiraCosta College, Williams has been able to provide a firm foundation for her son's future.
"MiraCosta College means everything to me," Williams said. "I made some of the best, long-lasting connections among students, faculty, and staff that anyone could hope for, and many of them have helped me tremendously in getting where I am today." Added Williams, "I don't feel like my journey is over, but I'm definitely on the right path."