Valencia "Val" Warner-Saadat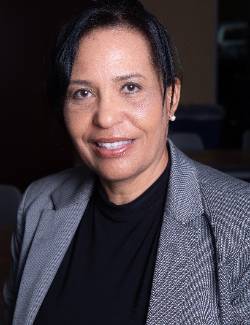 Valencia Warner-Saadat serves as the Chief of the MiraCosta College Police Department.
Prior to this role, Valencia served as a Lieutenant for the Oceanside Police Department and has spent 28 years working in law enforcement in the area, focused primarily on field operations and investigations. A longtime public servant, Valencia has managed hundreds of police operations and is credited with creating a Student Academy in the community to prepare high school students for a future career in law enforcement. As a patrol officer, Valencia was assigned to NETwork (Neighborhood Enhancement Team), working with the local community to build trust and eliminate gang related activity impacting the community. Thanks to her leadership, Valencia and her teams received the City of Oceanside Partnership Award and the Oceanside Police Department's Team of the Quarter on multiple occasions.
In addition to her career in law enforcement and connection to the Oceanside community, Valencia also brings her own academic experience to her role on the MiraCosta College Foundation Board. Early in her career, Valencia took classes and earned her associate degree at MiraCosta, which she is quick to point to when asked about her success in law enforcement. At each level of leadership in the police force, higher education was a requirement and Valencia maintained a steady course load to put her in a position for those promotions. Valencia attributes much of her law enforcement success to the criminal justice program at MiraCosta College. Both her children are also graduates of MiraCosta and have gone on to pursue their own degrees and careers.
Driven by her family's commitment to public service, Valencia dedicated her life to law enforcement because of her desire to help people and keep others away from harm. She also teaches Administration of Justice as an associate faculty member at MiraCosta College, where she mentors young students who are on a similar path that she was on years ago.
She frequently speaks to young students interested in a career in law enforcement and has been an active leader with the North San Diego Chapter of N.A.A.C.P. Valencia also volunteers her time as the North County Special Olympics Regional Area Director.